Janice Bonk Named Director of Marketing
Aug 10, 2009
Hatboro, PA - Cobra Wire & Cable, Inc, today announced that Janice Bonk has been named Director of Marketing.
In Janice's new role, she will provide marketing leadership with a focus on developing marketing solutions that leverage brand awareness. Bonk has been the Operations Manager and Director of Quality Systems with Cobra since 1988. With over 30 years of experience in the wire and cable industry, Janice is uniquely qualified for this position. Peter Sheehan, CEO says "I am proud of the contributions Janice has made to Cobra over the years and I am confident she will continue to contribute to our growth initiatives."
Cobra Wire ...
read more
Denise Essick Named Assistant Warehouse Manager
Aug 10, 2009
Hatboro, PA - Cobra Wire & Cable, Inc, today announced that Denise Essick has been named Assistant Warehouse Manager.
Denise has recently managed Cobra's respooling department at our Corporate Headquarters. Denise brings her vast knowledge of warehouse operations and understanding of customer requirements to her new position. Brian Holtzman, CFO of Cobra Wire & Cable, Inc. says "Denise has been an integral part of our warehouse operation and looks forward to her expanded leadership role."
Cobra Wire & Cable, Inc. produces power cable and connectivity for various markets including central office, data ...
read more
Cobra's New Corporate Identity
Jun 15, 2009
Making a significant step forward, Cobra Wire & Cable, Inc. is proud to introduce its new corporate identity. Cobra's new branding strategy is an accumulation of brilliant input from the Cobra team, its customers and suppliers.
Cobra is making new commitments to future growth through an expansion of product offerings and services to satisfy you, our customer. Look for our "NEED POWER?" ads in industry magazines. Moving forward, Cobra Wire & Cable, Inc. is putting its new mark on the future.
read more
MRC840 Crimping Tool
May 19, 2009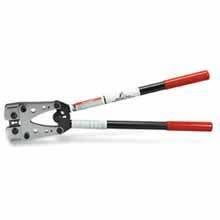 Cobra Wire & Cable, Inc. is now stocking and featuring the entire line of cable processing tooling offered by FCI Burndy and Panduit. Please call Cobra for a quotation prior to making a purchase anywhere else. We offer both battery and manual cutters and crimpers all the way through the electric and gasoline power electric pumps required for remote power tools in the field. Cobra is currently offering a special price on Burndy's MRC840 Mechanical Rotating Crimp Tool which accommodates copper compression lugs from # 8AWG str. - 4/0 AWG flex. copper conductor.
read more
Cobra Wire & Cable annoucement: Bart Reitter
Apr 03, 2009
Hatboro, PA - Bart Reitter headed Cobra's talented team over the past several decades taking the company from a start up operation in 1988 to the multimillion dollar company it is today. Bart is retiring from his position as President of Cobra Wire & Cable effective July 1, 2009. At the same time we are acknowledging his retirement, Cobra is proud to announce Bart is staying on as a consultant to Cobra. This partnership will allow Cobra both continuity and the ability to draw on Bart's leadership experience and outstanding knowledge of the industry for many years to come.
read more